OUR REMEMBERED BOYS
In honor of our remembered boys who have crossed over the Rainbow Bridge, this page is a tribute to their memory. Each was a precious companion in our lives first and foremost, filling our hearts with love and joy. Some were used in our breeding program and we have been happy to share our boys with other responsible breeders. Above all, each has left their own unique paw print on our lives and in our hearts.

CH. Tanzenbar Color of Prairiefire
"BRYCE"
August 6, 1992 – February, 1999
BernerGarde ID #10376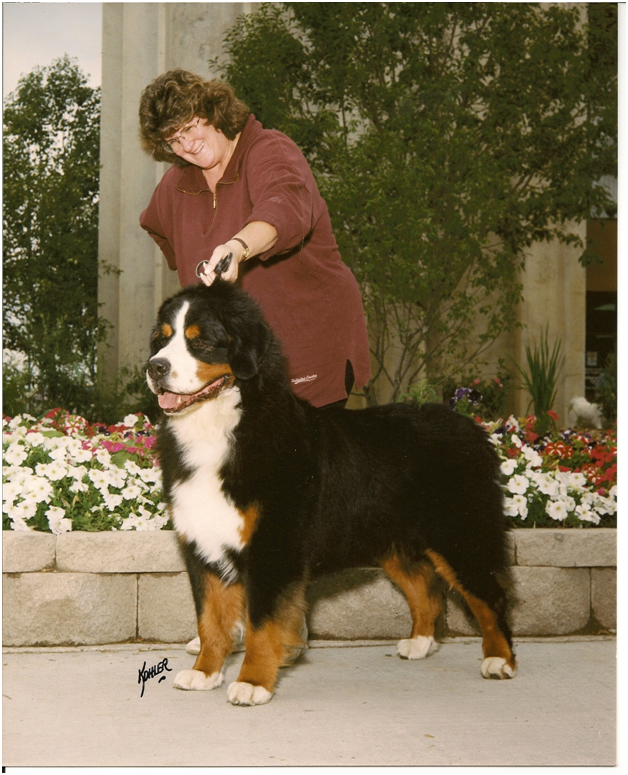 Our time with Bryce was full of joy and devotion. A very sweet and gentle soul, he was bred sparingly to some very nice girls and became another one of our BMDCA Top Producer of Champions. Though not with us long at all, his offspring lived very long lives with many growing older than 13 years of age. Bryce left this earth at 6 ½ years of age of a non-hereditary cancer of the bladder (transitional cell carcinoma). This only helped to reinforce our commitment to seek out healthy pedigrees of future dogs we wished to bring into our breeding program.
Ch. Prairiefire's Wild at Heart
"ZANE"
September 12, 1997 to December 5, 2007
BernerGarde ID #61067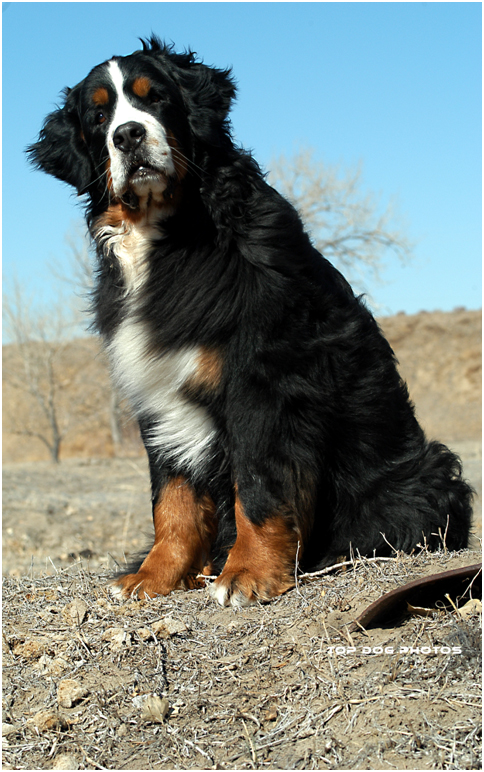 So many thoughts come to mind as I write about Zane, but none fully describe the fullness of his life and its effect on our lives. Every day he is still in our hearts. Zane's Sire, Bryce, was an amazing gift from a fellow breeder and when Bryce was breed with another breeder's girl, Zane came to join our family. That was our very lucky day!
CH. PRAIRIEFIRE'S IT'S SHOWTIME
"PO"
June 7, 1998 to June 1, 2008
BernerGarde ID #17391
Po crossed over the Rainbow Bridge at 10 years of age. He was an absolute perfect example of what the Bernese Mountain Dog temperament should be. He never met a dog or person with anything but the utmost politeness. Po has over 28 Champion offspring and more with performance titles. He was in the Top 5 AKC All-Breed rankings for two years and the number one Stud Dog at the 2006 National Specialty in Michigan along with winning first place in the Veteran's Class. He was awarded Top Producer of Conformation Champions by the Bernese Mountain Dog Club of America. Top Producer of Versatility Dogs and Working Dogs. These awards show his children have true Bernese working ability by attaining at least three different titles on at least 6 of his children. This is a huge accomplishment by the people who have his children as it is not an easy feat to achieve.

What I miss the most about Po is when he would leap up on the couch and lay his head on my heart. I know he was listening to it beat as he would do from the time he was 5 weeks old until he left this earth. His legacy continues on through his children.
CH. Prairiefire's Torch OKinvarra
"Bosco"
June 21, 2003 to October 4, 2011
BernerGarde ID #33689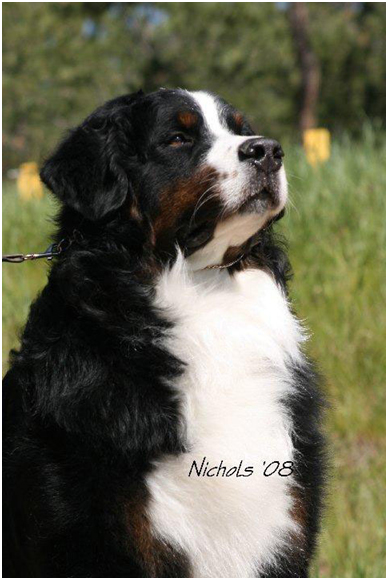 Bosco lived with our longtime friends the Ellison's. He had many accomplishments in his life and was deeply loved. One of the best one's was the most precious gift to us, his Son, Tyce. Bosco changed their lives and paved the way for the Ellison's current Berner, Mario.
GCH Bronze Prairiefire's Winter Hawk of Snowy Pines
"TYCE"
January 13, 2010 to January 25, 2016
BernerGarde ID #72257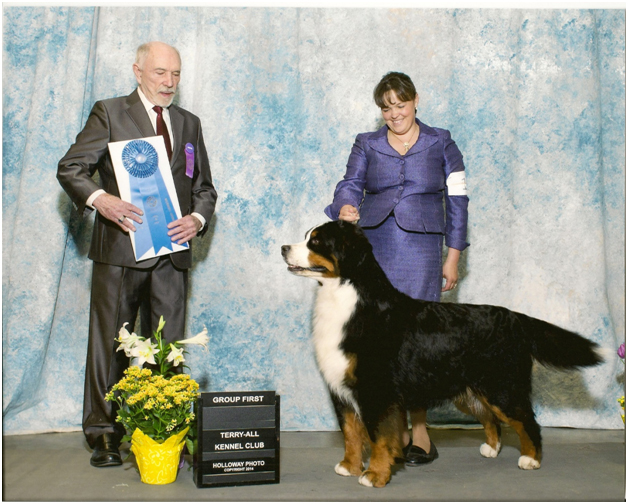 Tyce was the son of our Bosco and our good friend Collen Smith's, Geneva. He was taken from us far too young, at the age of 6 from a Mast Cell tumor that metastasized to his lungs. Such a small lump turned out to be deadly. He was quite the loveable boy and will never be forgotten.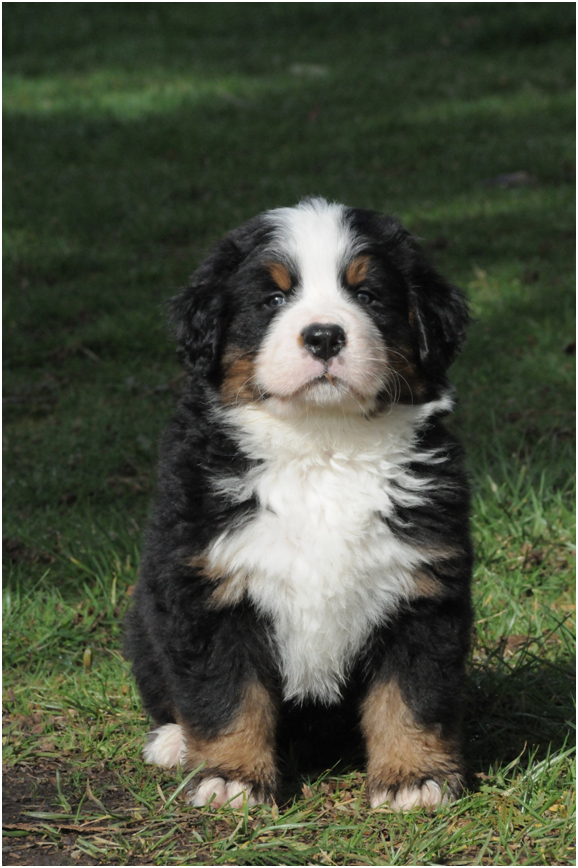 Tyce 6 weeks Adorable
American Canadian GCH. Gatekeeper Vom Gipfelfeur, RN
"KEEPER"
January 18, 2007 to January 9, 2017
BernerGarde ID #59315
Keeper was brought to Edmonton, Alberta, Canada from Belgium by our dear friend Denise Knight. He was her "dream come true dog." After easily achieving his Canadian Championship he rose to the number 1 Bernese in the Canadian Conformation show rankings.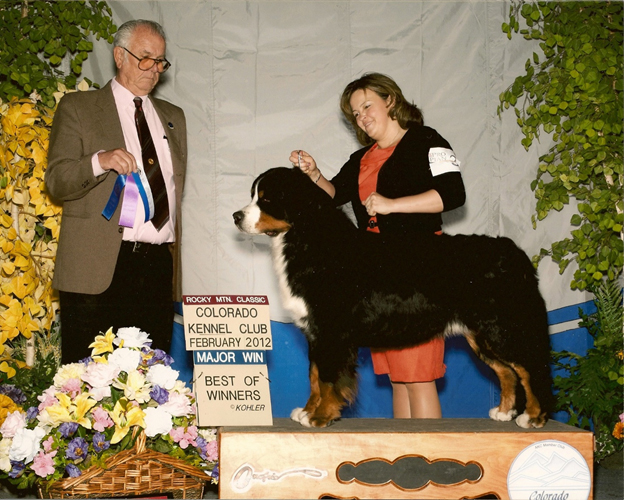 Unfortunately, Denise was diagnosed with stage 4 pancreatic cancer she was now focused on where he would live the rest of his life when she was no longer able to take care of him. We received a call from Denise asking us if we would accept the very special gift of Keeper and her female Berner from Estonia, Hershey, into our family. Of course, we said yes but more than anything wanted her to know they would both have a happy and good life with us in the similar lifestyle they had become accustomed. They both loved taking trips in the RV, hogging our bed, and crashing out on the couch. We know Denise was watching over them.