About Us
Mark and I have resided just outside Aurora, Colorado since 1982.  We love our home which has a panoramic view of the Rocky Mountains and the beautiful open prairie land surrounding us.
I retired after 31 years in the telecommunication industry and Mark followed about 18 months later.  Now we spend our time with our beautiful Bernese.
Soon after moving to Colorado, meeting Mark and marrying him, a Great Dane puppy came into our lives.  We lived with 4 rescued Danes over a 12 year span, then I saw my first Bernese Mountain Dog.  Six years later, in 1987, we were in a position to add a new dog to our lives and became proudly owned by our first Berner, Bergen.  That was the beginning of our beautiful new life filled with even more joy.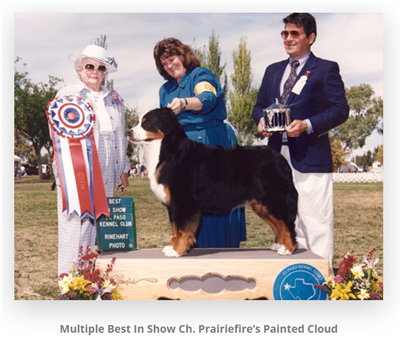 I have been a member of the Bernese Mountain Dog Club of the Rockies since 1990 and the Bernese Mountain Dog Club of America since 1991. I am asked to judge Bernese Specialty Puppy and Veteran Sweepstakes, dog show matches, teach Puppy Kindergarten and show conformation classes. One of my most memorable experiences was when the national club members of the Bernese Mountain Dog Club of America voted for me to judge 190 of the country's best Bernese puppies and veterans at our National Specialty. I have trained and shown many of our dogs to both their American Kennel Club Championships, Canadian Championships and AKC Obedience titles. Working with our dogs is what we love doing with our lives most of all. Mark and I still work together to prepare our pups and older dogs for the show ring. Although my body has told me it is time to relinquish the show lead to a younger individual, we still stay very active in training, grooming, and exercising our dogs . Also, we make sure to stay up to date on the current health related subjects.
All of our dogs are companions first and foremost, they are placed in their forever homes based on personality and compatibility match with the perspective families. None of our berners live in kennels, it is important to us they live in family homes where they are surrounded by love.
Sharon and Mark Johnson
Prairiefire Bernese (AKC Reg'd)
American Kennel Club Breeder of Merit
Colorado Breeder of Bernese Mountain Dogs